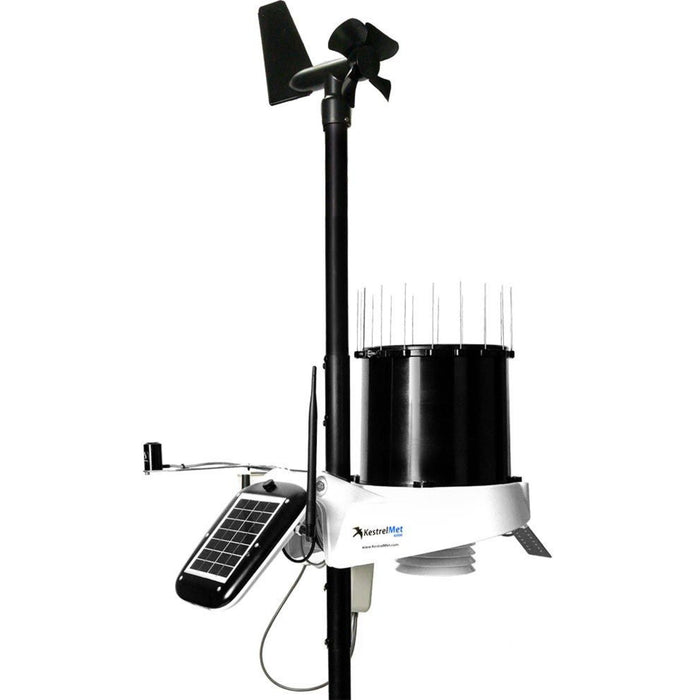 KestrelMet 6000 AG WiFi Weather Station
KestrelMet 6000 AG WiFi Weather Station with Leaf Wetness + Solar Irradiance
Mounting Requirements: For optimal results, the KestrelMet weather station should be affixed using the KestrelMet Tripod or Nomopod. Note that these are sold separately and do not come with the weather station.
Product Overview:
The KestrelMet 6000 serves as a robust, all-encompassing weather solution tailored to provide precise weather data, enabling users to make decisions grounded in real-time insights. Crafted for enduring extreme conditions, it boasts of ruggedness, water-resistance, and the ability to counter dust and debris, making it indispensable for property owners, job site managers, researchers, or any other professional.
Key Features:

Universal Connectivity:

 

Its Wi-Fi feature extends up to 1000 ft line-of-sight, allowing data access anytime, anywhere, via smartphones, tablets, or computers.
Immediate Deployment:

 

As a fully configured unit, there's no need for sensor selection. It's solar-powered, supported by a backup battery, ensuring its standalone capability right out of the box.
Effortless Installation:

 

Enjoy a quick, wire-free setup. With the weather station operational in under 20 minutes, all crucial sensors are anchored to a robust platform.
Enhanced Precision:

 

The 24-hour aspirated fan paired with sensor shields combats solar radiation's impact, enhancing data accuracy.

Measurements

Temperature
Relative Humidity
Wind Speed
Wind Direction
Dewpoint
Barometric Pressure
Rainfall
Leaf Wetness Sensor
Solar Irradiance Sensor
Soil Temperature and Moisture Sensors (optional extra)

Features

Full suite of meteorological measurements
All-in-one design for a quick and straightforward setup
Integrated Cellular modem with cloud connected data plan
Intelligent Power Management ensures reliable reporting even in short day and cloudy conditions
High-power photovoltaic panel
24-hr aspirated fan for maximum accuracy
Highly visible LED status lights
Mounting Diversity:
The Mono Mount Kit and the Tripod Mount Kit cater to varied needs. The former suits pitched/flat roofs and vertical surfaces like gables, while the latter is designed for flat terrains and roofs.
Cloud Integration:
Synchronize your data to the cloud through Wi-Fi. Revel in the convenience of accessing your personalized weather metrics on the go through any device, courtesy of the Ambient Weather Network (AWN).
Comprehensive Data Monitoring:
Wind Dynamics:

 

Captures both speed & direction.
Climate Tracking:

 

Monitors barometric pressure, humidity, temperature, and precipitation.
Specialised Sensors included with this model:
Leaf Wetness:

 

Vital for environmental applications, it detects surface/soil moisture, gauges optimal planting periods, and assesses fungal growth risks on plant surfaces.
Solar Irradiance:

 

A key tool for farmers and researchers, it tracks solar energy essential for photosynthesis, aiding crop planning and yield predictions.
Add-On Sensor Option / Sold separately:
Enhance insights with the Soil Moisture & Soil Temperature Sensor. Crucial for comprehensive soil assessment, it's perfect for cultivating crops that require specific moisture levels.
---
Opt for the KestrelMet 6000 to stay ahead with real-time weather data. Integrated with cloud and alert functionalities, it ensures you're always equipped with the most current and actionable weather insights.
DATA INTEGRATION
The KestrelMet 6000 is an all-in-one, self-powered weather station that integrates easily into data-driven technology using a cloud-based API.
Our API offers integration, personalization, and automation advantages.
Share and embed our API weather data into your own platform for a personalized solution that fully leverages your existing technology investments.
Save time and money with seamless integration and information delivery from our API to your platform via the cloud.
API data feeds from our high-performance weather station into selected programs so you can visualize field-level and crop-specific insights at a glance for the most informed, real-time decision-making.