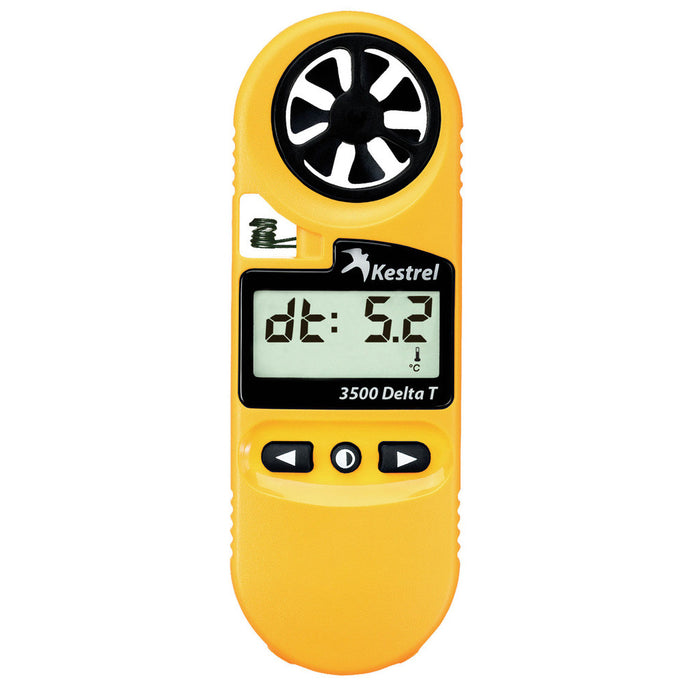 Kestrel 3500 Delta T Meter
Kestrel Meter 3500 DT Meter

The Kestrel 3500 DT was designed specifically to meet the needs of agricultural professionals who require accurate, fast Delta T readings.  While the Kestrel 3500 DT has many features, it is the only meter to provide the Delta T measurement, and it was designed specifically with farmers in mind.
A new model with LINK Bluetooth, stores data for export, works with Android and iPhone, while measuring Delta T is the new Kestrel 5200.
Farmers also know it is critical to measure relative humidity, wind speed and wind direction, as this ensures safety and effectiveness in spraying. Many locales regulate the maximum permitted wind speed during spraying to minimize spray drift. In hot, dry conditions, expensive chemicals may evaporate into the air rather than onto your crops. However, you can minimize costly evaporation by selecting an appropriate nozzle and increasing the spray droplet size.
The Kestrel 3500 DT measures the following:
Air, water and snow temperature
Altitude
Current / Average / Maximum (gust) wind speed
Delta T reading
Dew point
Maximum wind gust
Relative humidity
Wet bulb temperature
In addition to offering highly accurate readings designed with the needs farmers and other agricultural professionals in mind, the Kestrel 3500 Delta DT is a reliable piece of equipment that can save you thousands of dollars in waste each year.  When you access to the reliable readings that you need the most in your line of work, you can start to streamline your efforts and maximize your spraying budget.   It's the ideal blend of simplicity and technology that makes the Kestrel 3500 Delta T the number one choice for agricultural professionals.
The Kestrel Delta T includes:
Real-time clock
Protective cover with sure-grip over molding
Data hold function
Large display with an easy to read backlight
Waterproof and flotation capability
High precision pressure sensor
Patented user-replaceable impeller
What is Delta T?
The Kestrel 3500 Delta T Meter is one of our most popular sellers due to its crucial utility in farming applications.  However, some don't fully understand what it is and why it's so important to take Delta T measurements before crop spraying.
Specifically, Delta T is the difference between the Dry-bulb and the Wet-bulb temperature.  This measurement is crucial because the Delta T plays a major role in thermal drift, which is a result of unstable meteorological conditions. If not properly considered, chemical droplets can be carried on thermal eddies and deposited some distance away from the target site.
The Kestrel 3500 Delta T incorporates barometric pressure correction in its wet bulb temperature calculation, ensuring accuracy even on low pressure days, at high altitudes, and in very dry weather when Delta T monitoring is important. No other pocket weather meter offers this feature with this level of accuracy.
Delta T has become one of the standard indicators for acceptable spray conditions. It is indicative of evaporation rate and droplet lifetime.  The diagram below relates air temperature and relative humidity to values of Delta T:
The Kestrel Delta T is important in Agriculture because it shows farmers when it is a good time or not a good time to spray chemicals on crops or weeds.  For spraying, the Delta T should ideally be between 2 and 8.  Anything below 2 is too humid, and conditions are too dry when it is above 10.  This is at the touch of a button and instant.  
In Australia, Delta T readings are required before every spray.  The Kestrel Delta T Meter can give you an accurate, commercial-grade measurement of the Delta T in an instant so you can spray on schedule.
Every Kestrel 3000 Includes
A slip-on protective cover
Neck lanyard
CR2032 coin cell battery (Average life 300 hours)
Kestrel Certificate of Conformity
Kestrel 3500 Delta T Videos
Unboxing a Kestrel 3500 Delta T
Kestrel Meter 3500 Delta T Additional Information