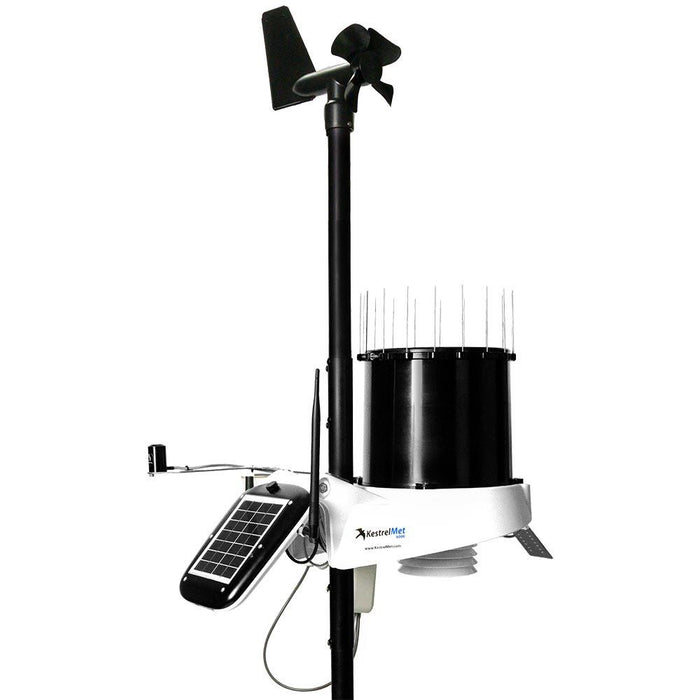 KestrelMet 6000 AG Cellular Weather Station
KestrelMet 6000 AG Cellular Weather Station with Leaf Wetness + Solar Irradiance sensors
"Enjoy a free Telstra IoT data subscription for the initial 12-month period. Subsequent renewal available after the first year at a rate of $220 for an additional 12 months."

Go to Telstra IoT data subscription
Product Overview:
The KestrelMet 6000 is a reliable, low-maintenance, cost-effective, all-in-one weather station for residential, commercial, agricultural, and research applications. Pre-assembled for a quick and easy installation experience, you can have this out-of-the-box solution set up and reporting data within 20 minutes or less. The KestrelMet station monitors weather conditions and sends sensor data directly to the cloud. View your current measurements and access historical data, charts, and more on the Ambient Weather Network (AWN) online dashboard or app.
Mounting Requirements: For optimal results, the KestrelMet weather station should be affixed using the KestrelMet Tripod or Nomopod. Note that these are sold separately and do not come with the weather station.
View The Complete KestrelMet 6000 Cellular Weather Station Video Playlist below, for all setup help videos and use cases
This model includes:
KestrelMet 6000 Cellular Model with the list of sensor below
Leaf Wetness:
A Leaf Wetness Sensor measures the moisture on plant leaves, giving precise data for better management of plant health. Its benefits include accurate moisture measurement, aiding in disease prevention, resource conservation, ease of use, cost-effectiveness, and remote monitoring capabilities. These features help maximize agricultural yields and manage resources efficiently.
Solar Irradiance:
Solar irradiance sensors, or pyranometers, are valuable in farming for measuring the power of sunlight, which is vital for plant growth, photosynthesis, and solar energy applications. They help farmers in optimizing crop placement and irrigation by understanding sunlight patterns, contribute to research in agronomy, and aid in the efficient operation of solar-powered farm equipment.

12 Months Free Telstra IoT data plan 
The station features a QR code that with take you to the registration form and walk you through the setup of your complimentary data plan. This includes initiating your free 12-month subscription and instructions for renewal once the initial period concludes.
Measurements
Temperature
Relative Humidity
Wind Speed
Wind Direction
Dewpoint
Barometric Pressure
Rainfall
Leaf Wetness
Solar Irradiance
Soil Temperature and Moisture Sensors (optional extra)
Features
Full suite of meteorological measurements
All-in-one design for a quick and straightforward setup
Integrated Cellular modem with cloud connected data plan
Intelligent Power Management ensures reliable reporting even in short day and cloudy conditions
High-power photovoltaic panel
24-hr aspirated fan for maximum accuracy
Highly visible LED status lights
Sold Separately
Mounting Requirements: For optimal results, the KestrelMet weather station should be affixed using the KestrelMet Tripod or Nomopod. Note that these are sold separately and do not come with the weather station.
Other available Sensors sold separately:
KestrelMet 6000 Soil Sensor Array Kit
Soil Sensor Array Kit is an advanced solution for soil moisture measurement by integrating temperature sensors. These sensors not only enhance the precision of the Watermark readings but also offer growers an expanded view of soil conditions. The soil sensor system includes three probes, each attached to a 4.57-meter cable. These probes are designed to measure soil water tension utilizing a Watermark sensor, while also recording soil temperature just below 2.54 cm above the Watermark sensor. Typically, these probes are installed at varying depths, aligning with the root zones of the intended plants. Get it here.
Connect to Ambient Weather Network
The KestrelMet 6000 Cellular Weather Station comes with a cloud-connected data plan from Telstra, with the first year of data completely FREE
Add in a long service life with continuous reliable operation, and the powerfully capable KestrelMet 6000 AG emerges as the clear winner for value and performance when compared to other leading farm weather stations. 
*Renew with our Telstra Low-Cost Cellular Data Only Plan see it here
*Renewing Is Simple! Once you've registered your KestrelMet 6000 Cellular Weather Station, keep an eye out for our email. It will notify you when your complimentary 12-month data plan is nearing expiration, guiding you through the easy renewal process.

Ambient Weather Network Dashboard
DATA INTEGRATION
The KestrelMet 6000 is an all-in-one, self-powered weather station that integrates easily into data-driven technology using a cloud-based API.
Our API offers integration, personalization, and automation advantages.
Share and embed our API weather data into your own platform for a personalized solution that fully leverages your existing technology investments.
Save time and money with seamless integration and information delivery from our API to your platform via the cloud.
API data feeds from our high-performance weather station into selected programs so you can visualize field-level and crop-specific insights at a glance for the most informed, real-time decision-making.