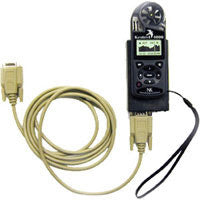 PC Interface - Serial Port
The Kestrel Interface is compatible with the Kestrel 4000 series and up Weather Trackers. With the optional computer interface, data can be uploaded for long-term storage, in-depth analysis and detailed charting.
Simply connect the interface cable to the serial port on your PC, rest the Kestrel 4000 on the cradle, and upload your stored data. The included software is easy to use and saves the data in a comma delimited text file for use in your choice of applications: text editor, spreadsheet or database. 
Download Stored Data
Download your data, chart it, and export it to save or us in other applications.
Included in Box:
Cradle for Kestrel Meter (only suitable for Kestrel 4000 series and up)
Communicator disc/software
6- foot cable
Communicator Software:

(If using interface Cradle, please install software driver below)
Kestrel Communicator Interface Software, v 2.1.1 compatible with ALL Kestrel 4000 series model |  Download (10.8MB)
Kestrel Communicator Software Instructions | Download PDF (179 KB)
Computer Requirements:
Compatibility: PC
Connectivity: Serial Port (Com 1-4)
Operating System: Windows 3.1 or Higher
Memory: 4MB
Hard Disk Space: 1.4MB



Place of Origin: USA