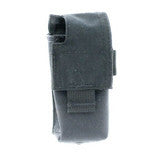 The Kestrel Meters TYR Tactical Carry Case attaches upright with MOLLE. We created this item with our revolutionary PV® material for durability and weight reduction.
Kestrel TYR Tactical Carry Case Specifications
Made with the Revolutionary Hybrid PV® (Pluma Vires) Material
50% Weight Reduction on Average
Independently Tested to 8X the Abrasion Resistance of Standard Mil-Spec Nylon
Higher Tensile Strength than 1000D Nylon
Improved Structural / Load Carriage Performance and Durability
Wt: 1.31 oz
Dim: 4" H x 1.25" W x 2" D
As true for both the Belt Clip case, and the Tactical case, they were designed for the 4000 series but both will hold all Kestrel units.  
Place of Origin: USA