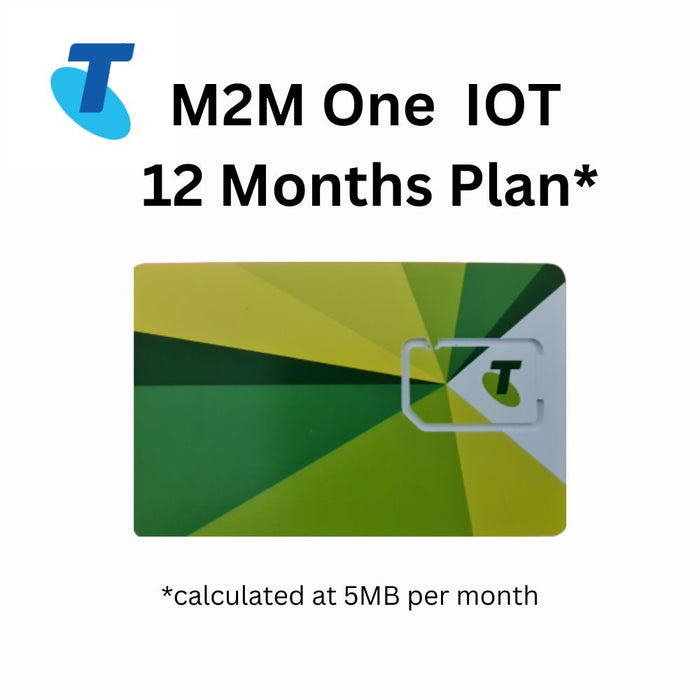 IoT 12 Month Data Plan for the Kestrel Met 6000 Cellular Weather Station
Unlock the full potential of your Kestrel Met 6000 Cellular Weather Station with our exclusive Telstra IoT Data Plan. Stay connected to your weather station's valuable data effortlessly and seamlessly.
"Please be aware that this data plan is provided free of charge for the initial 12 months upon purchasing the Kestrel Met 6000 Cellular Weather Station."
Key Features:
12 Months of Reliable Weather Data: Enjoy a full year of access to real-time and historical weather information from your Kestrel Met 6000 Weather Station. 

Telstra M2M IoT Data: Benefit from Telstra's robust M2M (Machine-to-Machine) IoT data network, ensuring consistent and secure data transmission.

5 MB Data Per Month: Keep track of local conditions with 5 MB of data per month, providing you with comprehensive weather insights.

Automatic Renewal: Your subscription is hassle-free, with automatic renewal after the first 12 months to ensure uninterrupted service.

Email Reminders: Receive timely reminders about subscription renewals, making the process simple and stress-free.
How It Works:
Register Your Weather Station: Use the provided QR code or station details to register your Kestrel Met 6000 for the Telstra IoT Data Plan.

Seamless Data Access: Once registered, your weather station will automatically send data to our secure servers, giving you instant access to vital weather information.

Renewal Alerts: We'll send you renewal reminders before your subscription expires, ensuring you never miss a beat in monitoring the weather.
Support and Assistance:
Our dedicated support team is ready to assist you with any questions or concerns you may have. Contact us via email at info@kestrelmeters.com.au or by phone at 03 9417 1425.
Upgrade your weather monitoring experience with the Kestrel Met 6000 Telstra IoT Data Plan and stay informed about local conditions like never before.