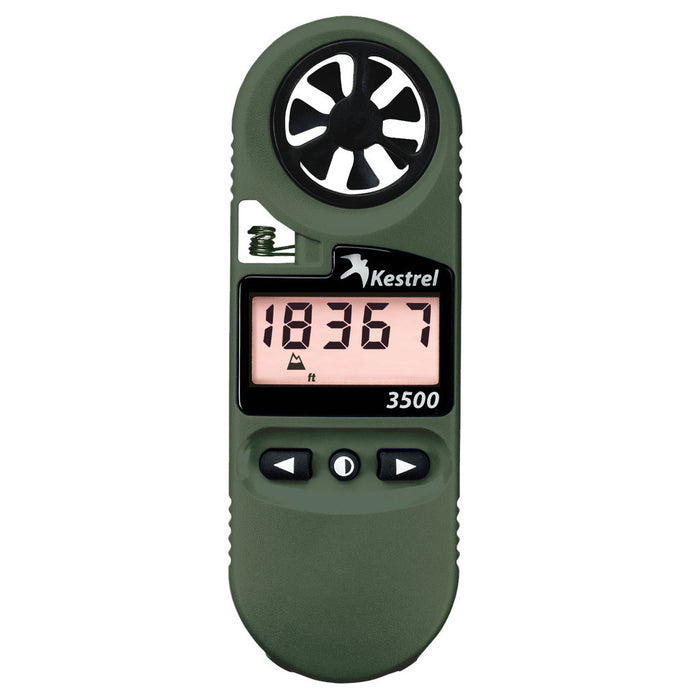 Kestrel 3500 Weather Meter - Olive Night Vision
Kestrel Meter 3500 Weather Meter
The Kestrel 3500 is the most powerful of the Kestrel 3000 series, measuring temperature, wind speeds, barometric phenomena and pressure trends for up to 3 hours or even longer if needed.  The Kestrel 3500 is perfect for the user who needs important weather data, but who doesn't require the ability to store the numbers for review at a later time.  The Kestrel 3500 handheld meter was designed with the same simplicity of the Kestrel 1000 in mind, but with the ability to do much more advanced tasks included in its design. 
The Kestrel 3500 NV, with night-vision preserving backlight, was launched in 2005 in response to military personnel and pilot's requests for a handheld meter that would help them to sustain natural night vision when using it.  The Kestrel 3500 NV's backlight are much dimmer than the lights found in most electronic devices, making it difficult to see with the naked eye during nighttime operations.  The backlight uses an optical filter to reduce brightness and minimize the blue and green spectrum light.  By utilizing this type of backlight technology, the Kestrel 3500 NV is the best choice for preserving night vision.
Have a look at our compare chart to see the features of each meter in a graph.  
Both the Kestrel 3500  and the Kestrel 3500 NV come with a slip-on protective cover, a handy neck lanyard and a Kestrel Certificate of Conformity.  Each meter also comes with a CR2032 coin cell battery with an average life of 300 hours. 
Kestrel 3500 Features and Functions
Barometric pressure
Altitude
Relative humidity
Heat stress index
Dewpoint
Wet bulb temperature
Wind chill
Air, water, and snow
Current wind speed
Average wind speed
Maximum wind gust
Real-time clock 
Waterproof and floats 
Large easy-to-read display with backlight 
Data hold function 
High precision pressure sensor 
Quick response, external thermistor 
Forecast weather with pressure trend indicator 
Humidity sensor can be recalibrated in the field with our Relative Humidity Calibration Kit.
Patented user-replaceable impeller 
Reliable, portable and easy to use 
Protective cover with sure-grip over molding 
Kestrel Meter 3500 Includes
A slip-on protective cover
Neck lanyard
CR2032 coin cell battery (Average life 300 hours)
Kestrel Certificate of Conformity
Kestrel Meter 3500 Videos
Unboxing the Kestrel 3500
Kestrel Meter 3500 Additional Information 
How to manage Heat Stress by monitoring your Hydration Levels:
Managing heat stress is crucial during hot weather. Healthdirect Australia, our national virtual public health information service, offers valuable guidance on how to monitor your hydration levels.
Their urine colour chart provides essential information to help individuals stay hydrated and cope with high temperatures effectively. By following the recommendations on the chart, people can better understand their hydration needs, identify signs of heat stress, and take necessary precautions.
With Healthdirect's support, staying informed and vigilant becomes easier, ensuring that everyone can enjoy a safer and healthier experience during heatwaves and hot climates.